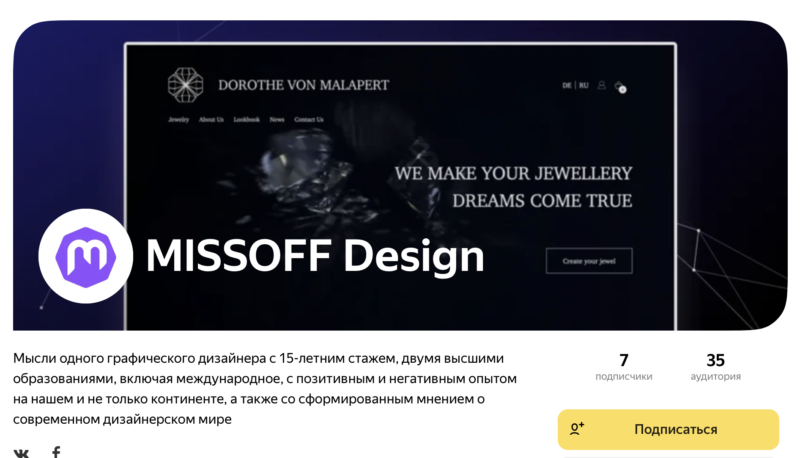 Web design studio MissoffDesign on Zen
Web design studio MissoffDesign on Zen
We've given up posting news for a bit because there's a lot of internal work that we've been postponing all the time. And then it came. By internal work, we mean inventory, parsing and cleaning folders with files on the server for the last 5 years, accounting and checking all the sites we have developed for the same period, updating customer data in the database, and so on. In short, internal accounting and putting things in order.
Spring came to St. Petersburg late, but immediately it was already at 25 degrees Celsius, which instantly launched an awakening in us from the winter blues and a craving for active work with new forces. During these two months, the MissoffDesign web design studio was able to "give birth" to a new site that will soon appear in the portfolio, and we launched the Missoff DESIGN channel on Yandex Zen.
Missoff Design channel on Yandex Ziene
Our web designers share their opinions and experiences on everything that has affected us throughout our lives in different countries and work in different fields of design. There is interesting personal information for designers of all levels, useful information for clients and potential clients, and just "what to read" for those who love self-development. If you are interested in developing in the field of art, graphic or web design, then our blog will definitely be useful, we will analyze what kind of profession a graphic or web designer is, what is needed for this, where it is taught, and we will also tell you how to use certain tools for work, What technique is needed to work as a designer.
If you like to do graphics or web, you are studying or going to, or maybe you are self-taught, then in my channel you will find a lot of interesting things for development, so if you are a talented beginner specialist, we can first invite you as an intern, and then we'll see
We wish you a pleasant reading and a good day)
Don't forget about our blog on our website.
You can communicate with specialists from the MissoffDesign web design studio on social networks:
VKontakte page of the web studio MissoffDesign, Facebook group design of sites and interfaces, MissoffDesign
And to our telegram channel -
https://t.me/missoffdesign
Tags: web design studio, website development, order a business card website, ux/ui